History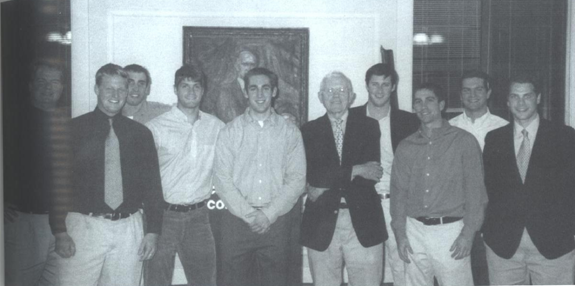 In the spring of 2002, a group of students interested in the financial markets began researching ideas for gaining hands-on experience in investment management.

At the same time Jim Doran, whose late wife, Peggotty Namm Doran, was a 1958 graduate of Connecticut College, approached the school. He was interested in giving students an opportunity to gain "real world" experience in the financial markets.

In 2002 Mr. Doran established an endowed scholarship fund in his wife's memory with a gift of $50,000. The Peggotty Namm Doran Scholarship Fund provides financial aid to a student majoring in government. The fund also provides "real world" experience to students because it is managed by the Peggotty Investment Club. The fund grew in 2003 with a gift from an alumna in the Class of 1962.

The Club actively manages a portion of the college's endowment portfolio from which about 5% of the value of the assets they manage on financial aid each year - one of the few student investment clubs to do so.
The Peggotty Investment Club met for the first time in September 2002. After being recognized by the Student Government Association and creating investment guidelines, the Club made its first investments in January 2003. In addition to managing a live account, the club also hosts speakers from various financial backgrounds who provide insight into the investment world.

Today, the Peggotty Investment Club manages approximately $77,000 and has around 30 members.
The following are the founding members of the Club


Paul Goncalves
Wyley Scherr
Brett Roth
Ryan Childs
Charles Hopper
Andrew Creedon
George Craft
Mike Cassin
(all class of 2003)
---